enjoying the local cuisine, tokyo
If the thought of raw horse meat tickles your taste buds or the idea of eating a poisonous blowfish gets your adrenals pumping then Tokyo is the place for you! Fugu (a poisonous blowfish that could kill you) is a delicacy and believe it or not raw horse meat (which is all sorts of wrong in my book) is a popular food. The weird and the wonderful co-exist in this town and nothing is off limits.
Personally, i'm not that adventurous when it comes to food, i like to keep it to the basics. The craziest thing i eat is Uni (sea urchin) and even that's not that crazy.
So Tokyo Part 2 is me sharing a couple of "local cuisine" spots. Obviously there are a million places to try in this fabulous city, these are just some of my faves....
But first, some fun Japanese food facts:
Pouring sake for your table companion is a sign of respect and a ritual of social bonding. A person is supposed to lift their glass off the table, holding it with one hand and supporting it with the other while the other person holds the sake bottle with two hands and pours.
Noodles, especially soba (buckwheat), are slurped pretty loudly when eaten. Indicating how delicious the food is. It also serves to cool down the dish, obviously.
The word "sushi" actually refers to vinegar rice and "sashimi" means pierced flesh.
It takes about 7-10 years of intensive training to become a fugu (blowfish) chef. More and more fish farms in Japan are producing non-poisonous fugu though, so this may eventually change.
The fortune cookie originated in Kyoto, Japan in the 19th century.
Rice cookers are more prevalent in Japanese kitchens than ovens.
Tempura is not actually Japanese, it was imported by Portugal in the 17th century.
Traditionally, sushi chefs have to train for 10 years before working in a restaurant.
Vending machines (situated on the side of the streets) sell beer and cigarettes and other crazy things that i won't mention here!
Tokyo is on par with Paris and their 3 star Michelin rating and even took over as the leader one year.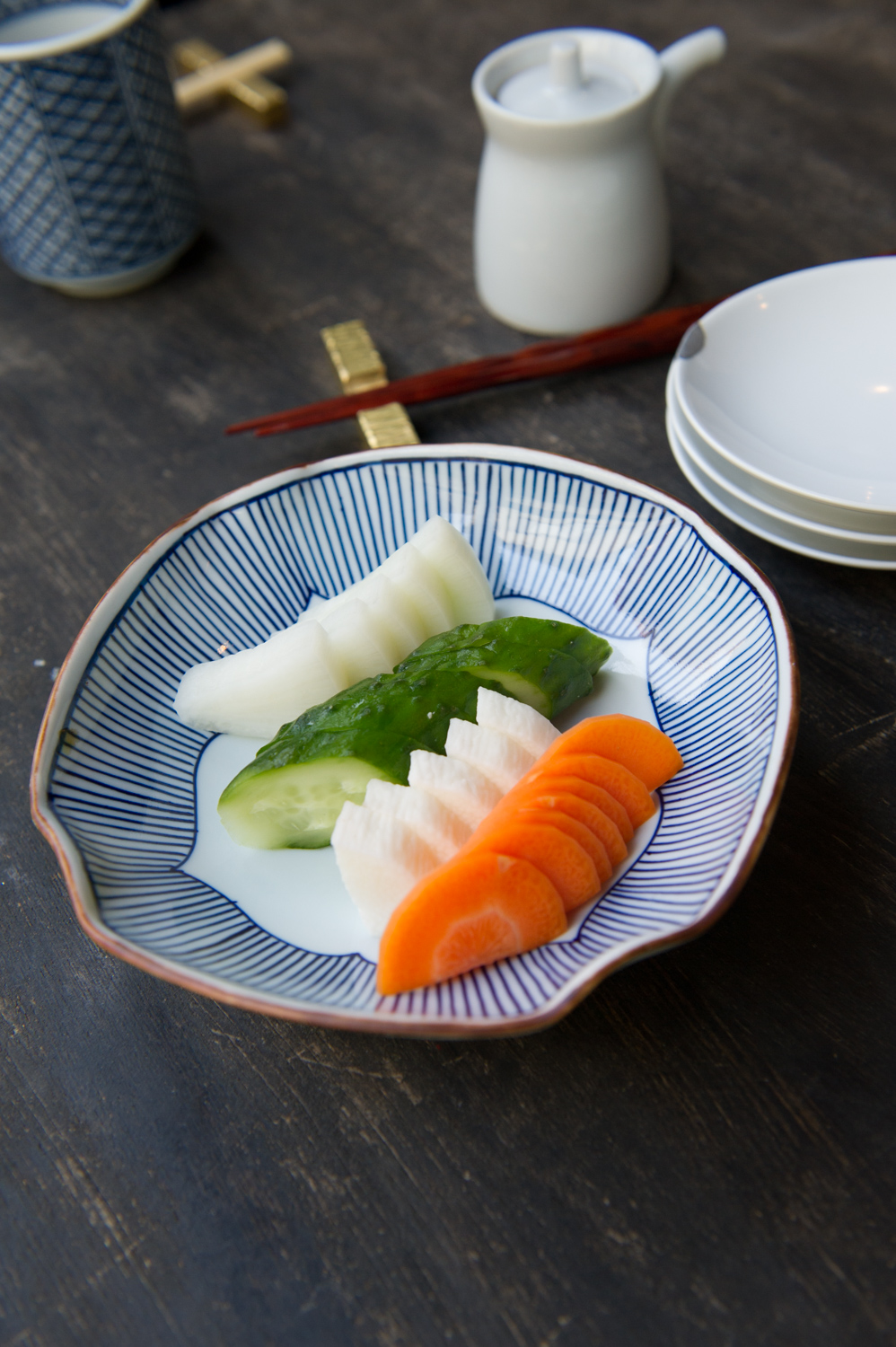 AOYAMA KAWAKAMI AN - soba Monday- Sunday 11.30am-4.30am.
Tucked away on a gorgeous residential side street this traditional restaurant in a cute wooden house specializes in handmade soba noodles and they. are. GOOD! We were lucky enough to visit on a warm day and scored a table outside which had us chatting the afternoon away while watching the locals go about their daily neighborhood business.
I had the cold daikon radish soba and Yasmin and Morgan had the tempura prawns with hot vegetable soba. All delicious! The waitstaff were lovely, the tea was amazing and if you go for dinner, apparently they have an amazing selection of local rice wines too.
Don't forget to slurp!
3 Chome-14-1 Minamiaoyama Minato-ku, Tokyo 107-0062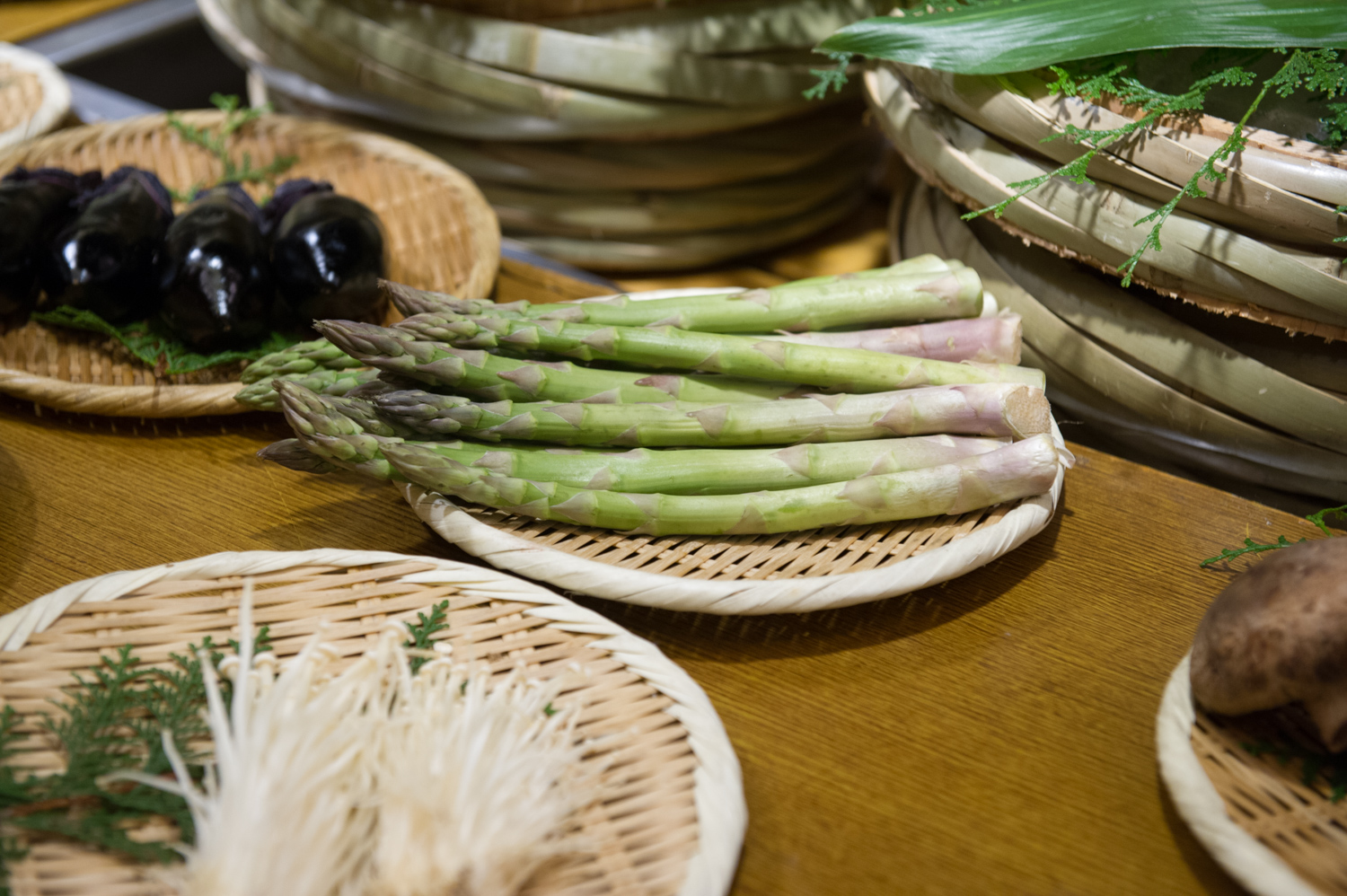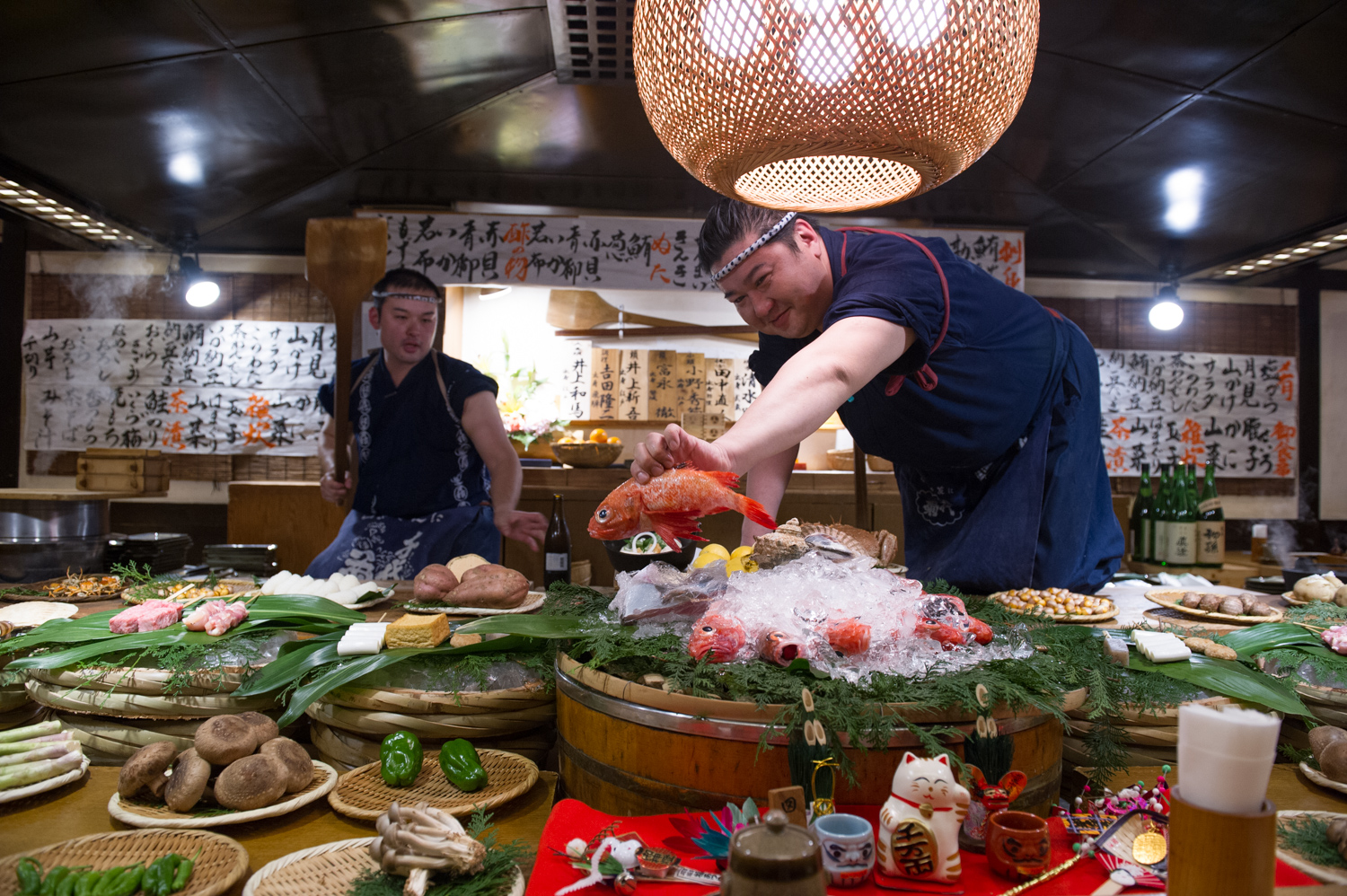 INAKAYA - Robatayaki Monday - Sunday 5pm-11pm
I'll never forget my first experience in this restaurant 13 year ago. Japanese men repeating and yelling out my every word and food being shoved in my face on a wooden paddle by a man sitting on his knees amongst an array of fish, seafood, veggies and meat. All displayed in the middle of the U-shaped counter we were sitting at. It was delightful! Some call it a tourist trap but i say it is so much fun and a must do experience. Say yes to the never-ending sake pours and try your hand at the mochi making. You won't regret it.
106-0032 Tokyo, Minato, Roppongi, 5 Chome -3-4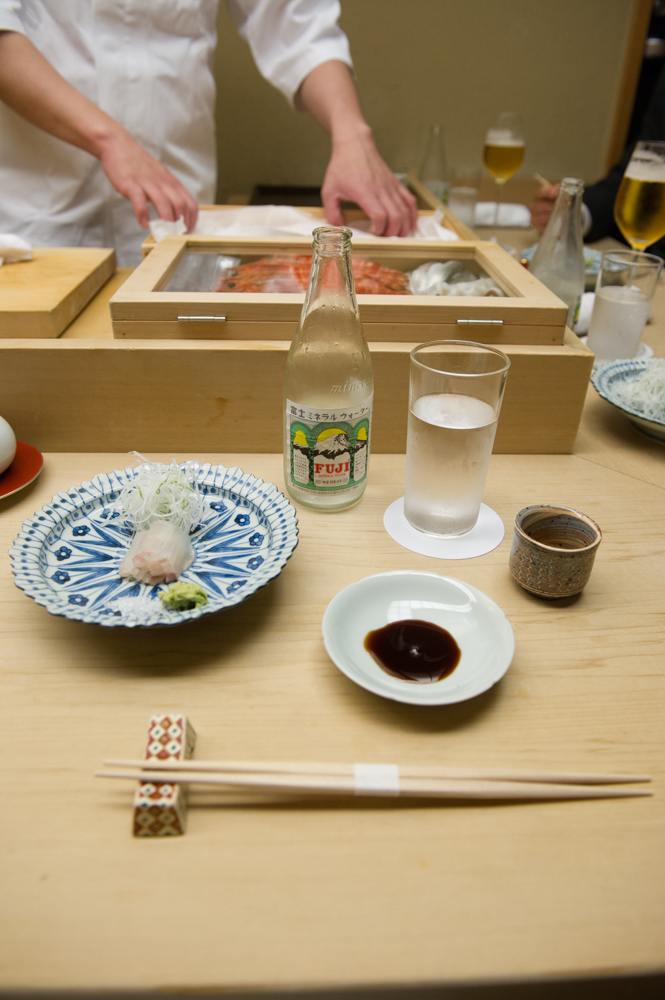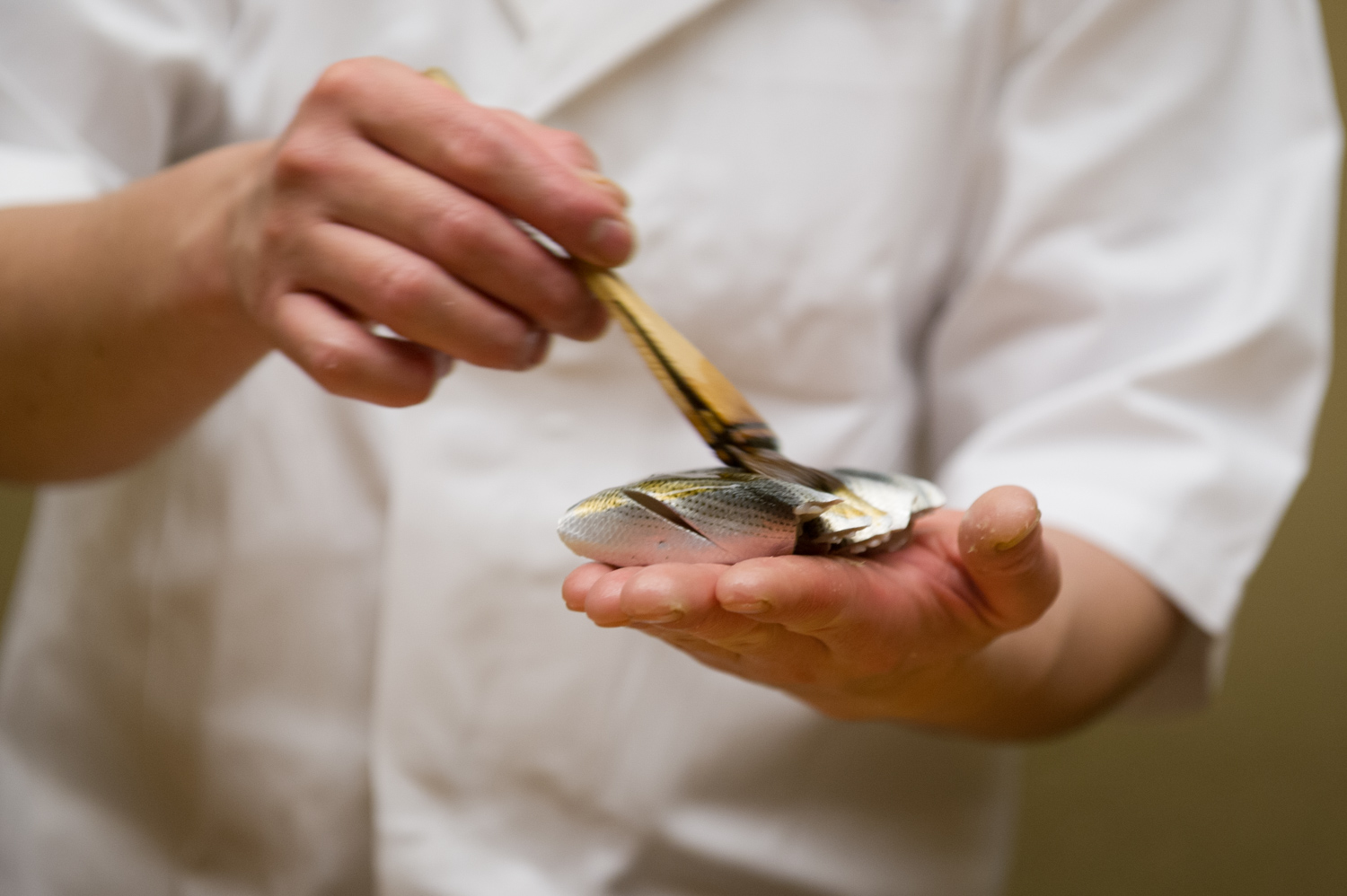 SUSHI
There are SO many amazing places to eat sushi in Tokyo, i mean, it is the motherland! So on this trip i let the hotel decide for us as i wanted to try something new, to you know, keep up with the latest hot spots.
The restaurant they chose was very authentic. There were no menus and hardly any English was spoken. All in all a great experience… until the bill came and i almost fell off my chair! Probably should have been a little more budget specific… !
Because of this experience, i've decided to give you a little run down of the different types of sushi offerings in Japan, to suit all budgets, with a restaurant suggestion for each. It's pretty hard to get a bad meal anywhere in Japan so don't be afraid to explore or ask your hotel for recommendations. Just make sure you tell them what your budget is!
Sushi trains + chain sushi stores
Located pretty much everywhere in Tokyo, these restaurants are a great way to enjoy the local food without stretching the budget. The Japanese pride themselves on perfection so even though this sushi might not be top quality, it's still pretty good and ranges from ¥1000-3000 per person.
Suggestion: UOGASHI NIHONICHI Shibuya Dogenzaka (Stand up Sushi) 11.30am- 2am every day
As the name suggests, you eat sushi standing up! A super fun and casual spot where the sushi won't break the budget.
2-9-1 Dogenzaka, Shibuya-ku, Tokyo
http://www.uogashi-nihonichi.com/shibuyadougenzaka/
Local sushi spots
These restaurants generally have more of a neighborhood feel and are a great place to experience the local food culture. They are a little more expensive than the chain stores, around ¥2500- 5500 per person but the experience is more authentic so it's well worth it.
Suggestion: SUSHI DAIWA (Tsukiji market) 5.30am - 1.30pm Monday - Saturday. Closed Sundays.
Sushi for breakfast? Hey, when in Rome! You may have to wait an hour or so for a seat but it is totally worth it. If you're not too keen on the morning sushi then go for an early lunch, keeping in mind that they do close at 1.30pm.
〒104-0045 Tokyo, 中央区Tsukiji, 5−2−1
High end sushi
These are the kind of 'fall off your chair when the bill comes' experiences but if you can afford to splurge, they are not to be missed. If you are open to trying anything i would always suggest choosing the 'omakase' menu where the chef chooses a selection of dishes for you to try. Just make sure you tell them what you don't eat (like shrimp etc) and definitely do your research on the cost! As prices generally start around the ¥15,000 mark (per person) and that doesn't always include drinks!
Suggestion: FUKUZUSHI Lunch and dinner Monday - Saturday 11.30am-2pm | 6pm-11pm. Closed Sundays
I'm recommending this restaurant as it has been around forever and it brings back fond memories for me. But there are so many incredible high end restaurants in Tokyo, generally that you have to book months in advance. Fukuzushi is a little easier reservation and they even have an online booking system to help bridge that language barrier. But ask your hotel what the latest/hottest new sushi restaurants are and they should be able to point you in the right direction.
5-7-8, Roppongi, Minato-ku, Tokyo
http://www.roppongifukuzushi.com/e_fukuzushi/e_fukuzushi.html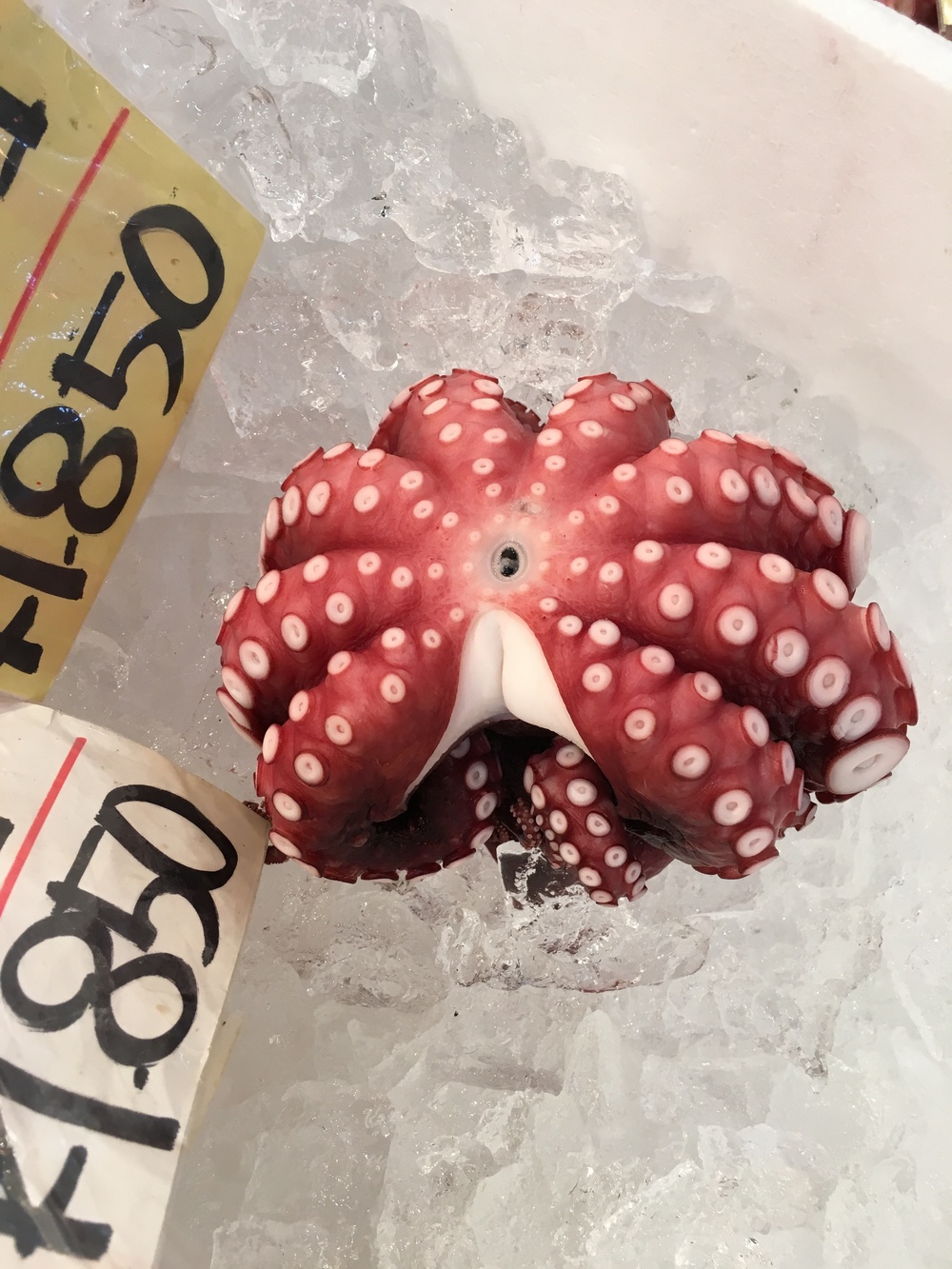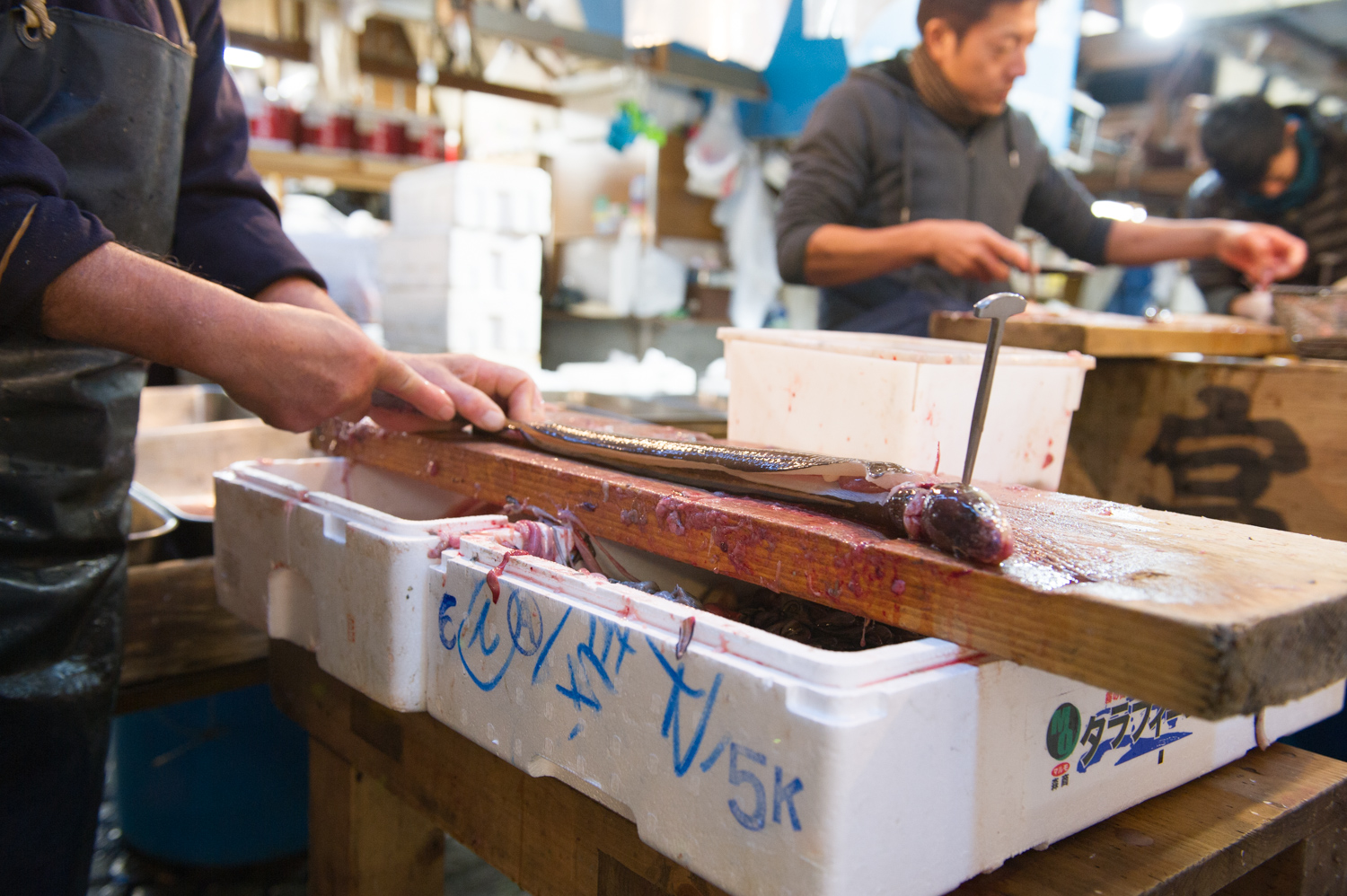 TSUKIJI FISH MARKET Outer market: Monday to Saturday 5am-2pm Wholesale market: Open to tourists after 9am. Closed some Wednesdays.
A trip to Tokyo isn't complete without a trip to Tsukiji (pronounced ski-gee) market. Sadly they have closed off the tuna auctions to tourists as their visits were disrupting the busy workplace but it is still a great place to admire (or squirm) at one of the largest wholesale fish markets in the world, handling over 2,000 tones of marine products per day.
Tourists are allowed to visit the outer restaurants from 5.30am but are not allowed into the busy market until 9am, under strict conditions...
Do not enter areas restricted to authorized personnel
Do not obstruct traffic
Do not bring large bags or suitcases into the market
Do not enter the market in high heeled shoes or sandals
Do not bring small children or pets
Do not smoke in the market
Do not touch anything
Serious business is being conducted at this market and one must be on high alert when wandering around as to not be run over by men rushing around on scooters or trucks delivering fish! It really is a great experience though, i highly recommend it.
5 chome- 2-2 Tsukiji, Chou, Tokyo 104-0045 (Moving to a new site in Toyosu in November 2016)
http://www.tsukiji-market.or.jp
MITSOKOSHI FOOD HALL 10.30am-8pm
Mitsokoshi department store is a institution that has been around since the 1600's and the Ginza location is one of Tokyo's best. They have everything from green tea to octopus dumplings, fried fish to expensive sake. 2 whole floors full of the bizarre and more bizarre. Sadly we got in trouble for trying to take photos, guess we missed the "no photos" signs! But go take a look for yourself... and see if you can spot the square watermelons...
http://mitsukoshi.mistore.jp.e.bm.hp.transer.com/store/ginza/floor/b2f/index.html
Photos taken in Tokyo by Morgan Ione Yeager